Agenda
Quality control
Data preprocessing and normalization
Identification of differentially expressed genes
Clustering
Classification and molecular diagnosis
Computer lab classes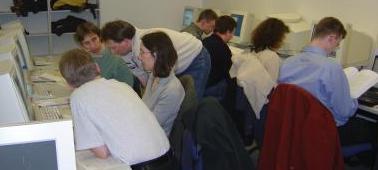 Locations and dates
| | | | |
| --- | --- | --- | --- |
| 14. - 17. March | Heidelberg | Full! | Details |
| 09. - 12. May | Munich | Full! | Details |
| 19. - 22. September | Saarbrücken | Full! | Details |
| 28. Nov. - 01. Dec | Berlin | Full! | Details |
Registration
Free for NGFN members. Free for researchers from not-for-profit institutions if places are available.
Please send us a short note that explains your existing skills and experience with (a) microarrays, (b) statistics, and (c) computer programming and your motivation for taking this course.
Faculty

Dr. Benedikt Brors
Dr. Tim Beißbarth
Dr. Achim Tresch
German Cancer Research Center (DKFZ), Heidelberg, Germany
Dr. Anja von Heydebreck
MERCK KGaA, Darmstadt, Germany
Dr. Wolfgang Huber
European Bioinformatics Institute, Hinxton, UK
Prof. Dr. Ulrich Mansmann
University of Munich, Medical school, IBE, Germany
Dr. Jörg Rahnenführer
Adrian Alexa
Max-Planck-Institute for Informatics, Saarbrücken, Germany
Dr. Rainer Spang
Florian Markowetz
Max-Planck-Institute for Molecular Genetics, Berlin, Germany
Contact

Florian Markowetz
email: florian.markowetz@molgen.mpg.de
Tel. +49-30-8413 1178
Fax +49-30-8413 1176
Course materials
Course materials of previous courses are online. Visit the pages for courses in 2004, 2003, 2002 and click on "Details" to get all slides, exercises and tutorials.